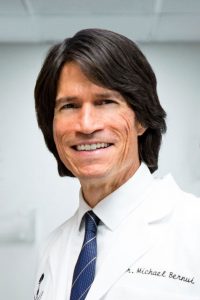 Michael R. Bernui, D.O., FAAFP, is the founder and clinical director of The Center for Restorative Medicine. He is a graduate of Loyola College in Baltimore and the Philadelphia College of Osteopathic Medicine.
After completing his Family Medicine residency at Franklin Square Hospital in Baltimore, Dr. Bernui practiced Emergency Medicine before moving to Nashville, Tennessee to start a family practice in 1991. In 2005, he launched The Center for Restorative Medicine.
Dr. Bernui has been board-certified by and is a Fellow of the American Academy of Family Physicians. He is board-certified by the American Board of Integrative Holistic Medicine.  He is professionally affiliated with the International College of Integrative Medicine, the American Association of Stem Cell Physicians, the Institute for Functional Medicine and the American Osteopathic Association.
In 2013, Dr. Bernui was named "Physician of the Year" by the Tennessee Osteopathic Medical Association. From 2016-2018, he served as President of the Tennessee Osteopathic Medical Association and he continues to serves on its executive board.
In Dr. Bernui's free time, he loves spending time with his wife and children.  His hobbies include horseback riding, soccer, water sports, CrossFit, and mowing.  On many Saturdays you can find him happily driving his tractor with headphones on listening to the latest medical research.