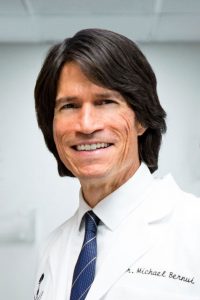 Michael R. Bernui, D.O., FAAFP, is the founder and clinical director of The Center for Restorative Medicine. He is a graduate of Loyola College in Baltimore and the Philadelphia College of Osteopathic Medicine.
After completing his Family Medicine residency at Franklin Square Hospital in Baltimore, Dr. Bernui practiced Emergency Medicine before moving to Nashville, Tennessee to start a family practice in 1991. In 2005, he launched The Center for Restorative Medicine.
Dr. Bernui has been board-certified by and is a Fellow of the American Academy of Family Physicians. He is board-certified by the American Board of Integrative Holistic Medicine.  He is professionally affiliated with the International College of Integrative Medicine, the American Association of Stem Cell Physicians, the Institute for Functional Medicine and the American Osteopathic Association.
In 2013, Dr. Bernui was named "Physician of the Year" by the Tennessee Osteopathic Medical Association. From 2016-2018, he served as President of the Tennessee Osteopathic Medical Association and he continues to serves on its executive board.
In Dr. Bernui's free time, he loves spending time with his wife and children.  His hobbies include horseback riding, soccer, water sports, CrossFit, and mowing.  On many Saturdays you can find him happily driving his tractor with headphones on listening to the latest medical research.
Sara Magoun, MSN, FNP-C, is a board-certified Family Nurse Practitioner licensed through the American Association of Nurse Practitioners. She earned her Bachelor's degree in Nursing from the University of Nevada Las Vegas and a Masters in Nursing from Union University. Sara joined The Center for Restorative Medicine in 2016 and quickly became Dr. Bernui's right hand.
Sara has seventeen years of nursing experience.  She worked for 11 years in the emergency department and for six years as a nurse practitioner.  Her experience makes her a thoughtful and wise decision-maker, but her passion for the health and well-being of others comes from within her heart. That's why having her as a Nurse Practitioner at The Center for Restorative Medicine is a "perfect fit".
Growing up in California, it seemed only natural that Sara would have a bright career in health care working in an integrative, holistic setting.  She and her wonderful husband, Jay, have three sons and enjoy life on their family farm where her passion for caregiving extends to patients of a different kind. Sara has an animal rescue called The Last Chance Ranch giving medical care, shelter, love and hope to many horses, goats, chickens, dogs, cats,…and a sheep named Hoover.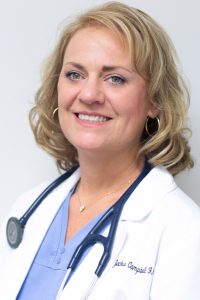 Jackie Campbell, MEd, MSN, FNP-BC, is a board-certified family nurse practitioner.  Jackie graduated from The University of Pittsburg School of Nursing and holds two Master's degrees.  Her first is a Master's in Health Education from Pennsylvania State University and her second is a Master's in Nursing from Widener University, with certification as a Family Nurse Practitioner.
Jackie has thirty-two years of nursing experience with twenty-four years as a nurse practitioner. While at The University of Pittsburgh,  Jackie worked in both the organ transplant unit and in critical care research. There, she came to realize that many of the chronic health conditions her patients faced were, in fact, preventable and treatable.  She is a meticulous researcher, and having her as a member of our team searching for the root cause of disease, is invaluable.
Jackie joined The Center for Restorative Medicine in 2017 and has worked with children, adults, the elderly, and the disabled.  She truly cares for her patients and treats each one well by attending to their immediate needs and providing them with a roadmap to a healthier future. She and her amazing husband Sean are the proud parents of three children, and they enjoy outdoor activities with their two dogs and two horses, along with family and friends.